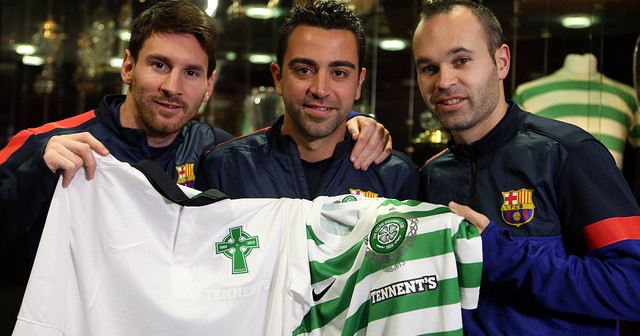 Why Celtic Park has the best atmosphere in world football
"Celtic Park has the best atmosphere in Europe" and some of football's greatest legends, including Lionel Messi, have backed up claims from Celtic fans that we create one of the greatest atmospheres in football…
It wouldn't shock any Celtic fan if Celtic Park a few years ago was named the 5th (out of 30 stadiums) best atmosphere in world football by a France Football poll. Anyone who has attended a game at Celtic Park would absolutely agree with this, some would even argue that we deserve better than 5th.
My first game against Celtic was a game against St. Johnstone at home. I was about 6 or 7 years old and I still remember it very well. I come from a large family of Celtic fans, so I was very aware of the reputation we had for an amazing atmosphere, and was excited to finally see this for myself.. but actually nothing could have prepared me for what I was about to experience!
I don't remember much from the game, but I do remember standing in the stadium and looking around in complete shock as thousands of people waved their scarves and chanted "You' ll Never Walk Alone" loudly. A song that I knew by heart and had sung many times with my family at home, but I couldn't say a single word of it anymore because I was completely amazed by what I was witnessing.
You would expect that initial feeling to fade over time as you get used to it, but I can confirm that to this day when I stand at Celtic Park I am still in awe of the atmosphere created by our fans. I recently returned to Celtic Park for the first time in three years for the Bodø/Glimt game, and that feeling of complete shock hit me again.
As I ascended the stairs to the Jock Stein Stand and watched the green of the stadium slowly multiply with each step, I felt a buzz of pure excitement to finally be back in what feels like my second home. Even though it ended in a 3-1 loss, I went home still feeling that buzz just by being in the stadium.
As a lifelong Celtic fan, I have always felt my passion when speaking about our stadium and our atmosphere might seem biased, but thankfully some of the greatest footballers have confirmed that these are just facts, whatever the team you support. From a super fan who has visited over 500 stadiums to Messi and Ronaldo, the praise our stadium and its atmosphere have received over the years proves that we are not the only Celtic fans who believe it.
Federico Roccio, an Italian super fan, has spent his life visiting different stadiums all over the world. Roccio has visited 25 countries including Spain, Germany, France and England. But of all the stadiums he has known, the one that excited him the most was Celtic Park. He even confessed that our atmosphere made him cry. "I even cried. Despite a heavy 3-0 defeat, the fans continued to sing and they invited us to drink with them. It was fantastic," he said of our atmosphere.
But Federico Roccio is not alone as even some of the best footballers in the world have backed his claims. Barcelona's Xavi is one of many to credit the atmosphere, he claimed that "going out in that atmosphere is always intense. I don't think I've seen anything like Celtic fans in all the stadiums I've played.
But Xavi wasn't the only one in the Barcelona squad to credit our atmosphere, he was joined by Gerard Pique who also claimed 'the atmosphere at Celtic Park is the best in Europe'. Andres Iniesta also backed his teammates' claim, adding that "Celtic fans are very special and the club and the players can be very proud of them. They are the best I have ever heard".
It's no secret that there's been a long-running debate over who the goat of football is, Messi or Ronaldo. But there's something else these two have in common, and that's their admiration for the atmosphere at Celtic Park. Messi was so touched by the atmosphere at Celtic Park that he bought himself a shirt. Speaking about the atmosphere, Messi said: "Celtic Park is a tough place to go, it's never easy to get a result there. It's the best atmosphere in Europe and we all want to relive it. that ".
But, if you're more of a fan of Portuguese superstar Ronaldo, not to be confused with our own Portugal superstar, then fear not as he also talks about his experiences of a Celtic atmosphere. Speaking of Celtic Park, Sir Alex Ferguson praised us and also noted Ronaldo's appreciation: "Parkhead is THE best I've ever known. The players were just talking about it the other day – Vidic and Ronaldo said it was the best atmosphere they've ever played in".
So whether you ask a fan or a footballing legend, their answer will most likely be very similar when it comes to the atmosphere at Celtic Park. It turns out we're not biased after all when we praise the atmosphere we create, it's just a fact that Celtic Park has one of the best, if not THE best, atmosphere in football.
Christie Tierney