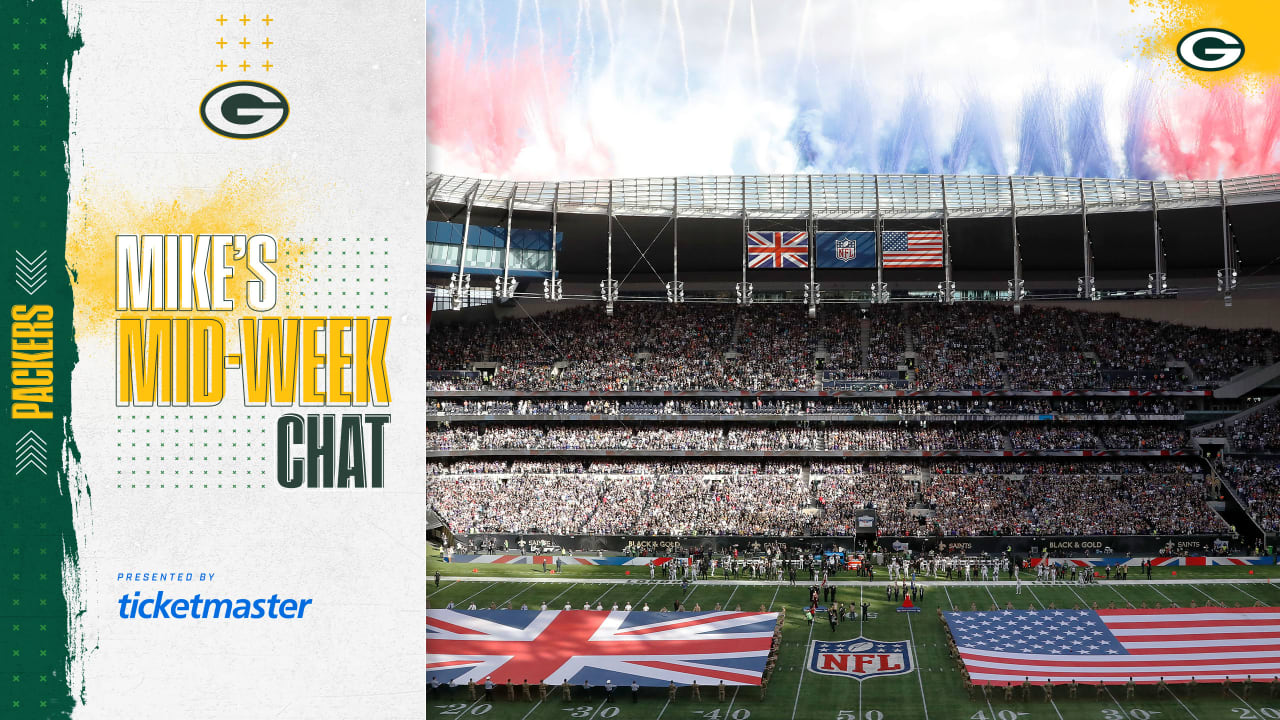 What will the atmosphere be like at Tottenham Hotspur?
I want a report on Europe's favorite beer on my desk by Tuesday.
I'll do my best, but I only have a few meals to try things out, and Wes won't help with the sampling, so…
Mike, do you have any special jet lag prevention methods? I imagine the start of next week might be tougher once the adrenaline wears off.
I have no idea how this will turn out. I don't sleep well on planes, so I expect to be pretty beaten up on Friday there. But I've had a lot of shifts here after night games when I come home at 4 a.m., sleep for a few hours, and come back to the office. It's not fun, but I imagine this trip will be a lot like that.
I read somewhere that the 49ers defense played 74 snaps in the Monday night game. Yet their intensity was still just as high. Is that just a credit to their conditioning. If the Packers want to win on defense this year, they need to have the same level of intensity.
Without a doubt. I don't think there's a lack of effort from the Packers defense, but when you don't stop the run, it's a lot harder to get past the QB, where "the intensity " appears visually. Like I said in Inbox this morning, this 49ers front seven is the best in the league in my opinion. I like GB's secondary better, so we'll see how the season goes.
Mike, since you and the other reporters can't see the full practice, and Coach LaFleur comments on Nijman's work at the right tackle, guessing that Sunday's game will be the first opportunity to see if it was just a conversation or a change to the O-line going forward?
Exactly. We won't know until we see how the Packers line up in pregame warmups on Sunday.
What are the Giants going to attack us with other than SB?
They're going to follow the same pattern as the Patriots, I guess, which is to start the run game and then work on the action game to help protect the QB and give him throwing lanes. The Giants' passing offense has been pretty tough this year, but it's always about containing Barkley first.
Mike, do you think the Packers might try some more on the punt return soon? I see that they signed a CB with feedback recently.
I'm going to assume this work is Rodgers' until I see otherwise. He had a great comeback in Tampa, wiped out by the kicker penalty, and he looked a lot more confident there than he did as a rookie. I think it is coming.
Now that the real pre-season is over. Besides the positive/negative injuries, what was an under-the-radar surprise?
For the Packers, I think it's a special teams performance like Tampa did at the start of the season. Everything about special teams is still a work in progress, but there has already been a lot of positive impact from this four-game phase. Two punts downed at 2 in the last two weeks, a winning FG without a hitch. There's already been a lot to like.
This will be my 3rd Packers game (and 5th NFL game). We won the first two games, so I expect that streak to continue.
What's really unusual for the Packers is that we're not winning the turnover battle. I think that's one of the reasons for the not-so-pretty wins.
This year's turnovers have been highly unusual for the Packers under LaFleur. They have returned the ball in every game this season, four in a row. The previous three years, they didn't have a streak of more than two games. With seven turnovers already this year, they are more than halfway through their worst turnover season under LaFleur (13). I don't think it's going to continue, but it can't either if the Packers expect to keep winning.
What is the plus/minus of Rashan Gary winning DPOY?
We're a long way from pricing something like that, but one sack every game, and five in total over four games, that's a hell of a start. LaFleur uses the term "game breaker" a lot when talking about other teams' best defensemen. Gary is definitely in that category too.
Did Joe Barry have a logical explanation for not having more beef on the pitch when the Patriots went with the old u71 aka 6OL package?
Barry speaks to the media later in the day.
Is it fair for me to assume that the absence of Adrian Amos and Jaire Alexander from the Patriot game was significant?
I thought so. That's 2 of your top 4/5 DBs, with an All-Pro level player. The Packers certainly have capable depth there, but not having players like that will undoubtedly have an impact.
Good question from Thomas. I know you don't have the numbers in front of you, but I wonder what the odds are of a team making the playoffs with a -5 or -10 in turnover.
It's not good. What I know this year is that there are 11 teams with a negative rotation margin, and the Packers are the only one of those 11 with three wins.
Is there an over/under on how much fish and chips you and Wes are going to eat? Or are you going to stick to the basics like McDonald's?
I absolutely want to eat fish and chips. We will try as much as possible to taste the local cuisine.
Speaking of the rolling issue, I like how for the most part our defense has responded to this adversity and the opponent either gets nothing or has to settle for a FG.
Absolutely. The opponents have 16 points out of GB's 7 turnovers, but 7 of them have come on the INT-TD. The defense allowed just three field goals on the other six turnovers. It was important.