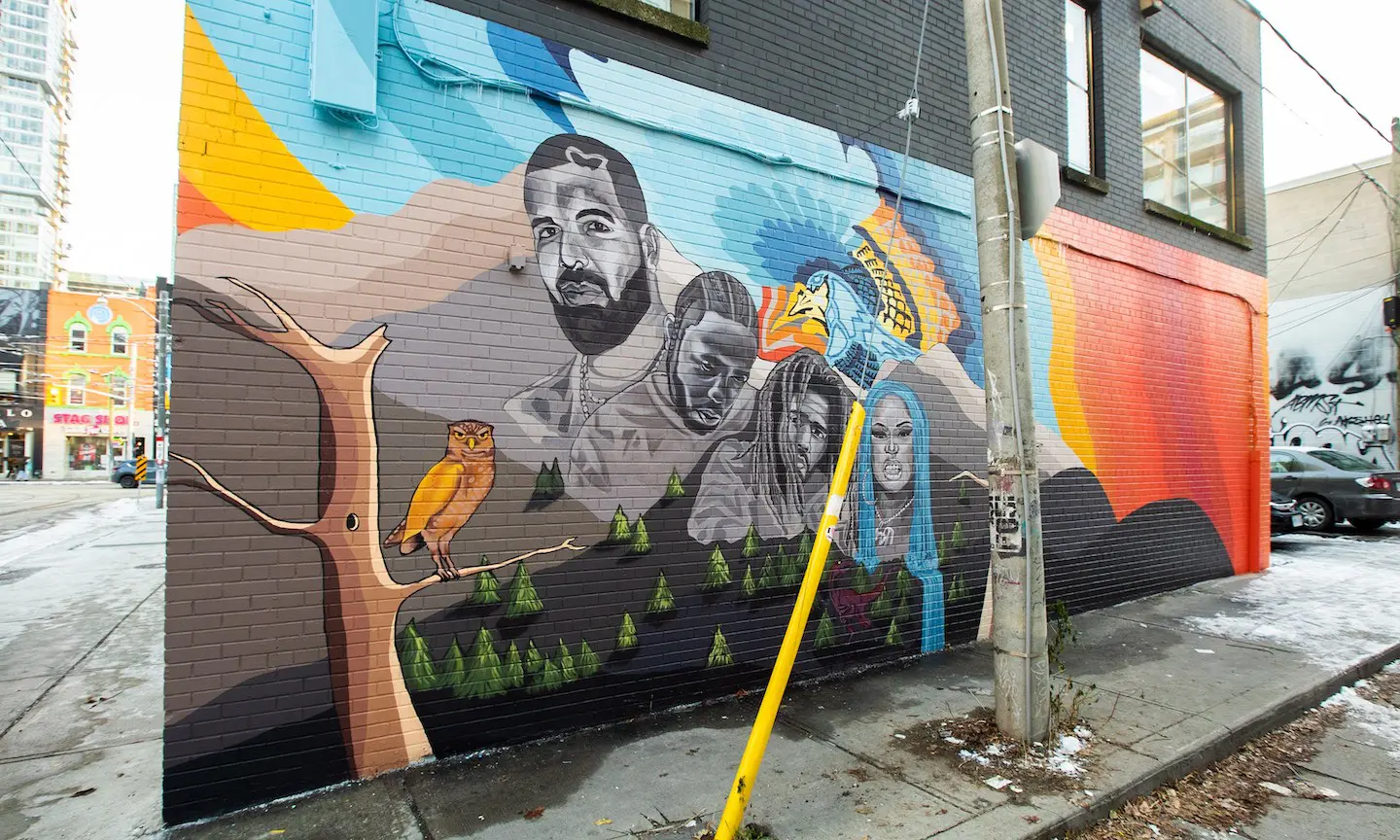 RapCaviar's Mount Rushmore contest unveils Drake murals and more
The much contested 'Mt.' by Spotify RapCaviar. 2010s rap rushmore Twitter dialogue last summer resulted in a survey of listeners and the crowning of Duck, Kendrick Lamar, Nicki Minaj, and J. Cole.
To celebrate their reign, Spotify has teamed up with local visual artists in each of the artists' respective home locations to unveil bespoke murals. Passers-by in Toronto, Los Angeles, Raleigh and New York can be on the lookout for these 'Mt. Rapmore's works of art starting today (January 13).
Each mural was specially designed by Jeks One, Luke Pollard, Jacob Rochester and Anderson Bluu and was created in the image of each legend, hand painted in places dear to the hearts of each artist. While visiting the murals, fans will be invited to scan a Snapcode that will ask them what is "their mood today" while browsing the artists' collective discographies and landing on an album that represents their mood, which fans can listen to. directly on Spotify.
"When the first viral Mt Rushmore rap moment of the 2010s occurred, we knew it had grown so big it deserved a physical installation in the real world," said Carl Chery, Creative Director and Head of urban music from Spotify, adding, "Nicki, Cole, Kendrick and Drake came of age in the early 2010s, setting the tone for hip-hop in the streaming age, and now, 12 years later, they're each Legends in their own right and pillars of the genre These murals are a celebration of their contributions, and we hope their locations in each artist's hometown are meaningful to them and their fans.
Cole's mural is in Raleigh, NC at 416 S Dawson Street, Raleigh, NC 27601. The
mural was produced by Jeks One. Drake's mural is in Toronto, Ontario at 224 Queen St W, Toronto, ON M5V 1Z6, Toronto Canada. The mural was created by Luke Pollard. Kendrick's piece is located in Los Angeles, California at 69 Windward Ave, Venice, CA 90291. The mural was painted by Jacob Rochester. Nicki Minaj's mural is located in New York at 57 Kenmare St, New York, NY 10012. The mural is by Anderson Bluu.
Visit Spotify's RapCaviar Playlist to stay up to date on the latest in hip-hop.