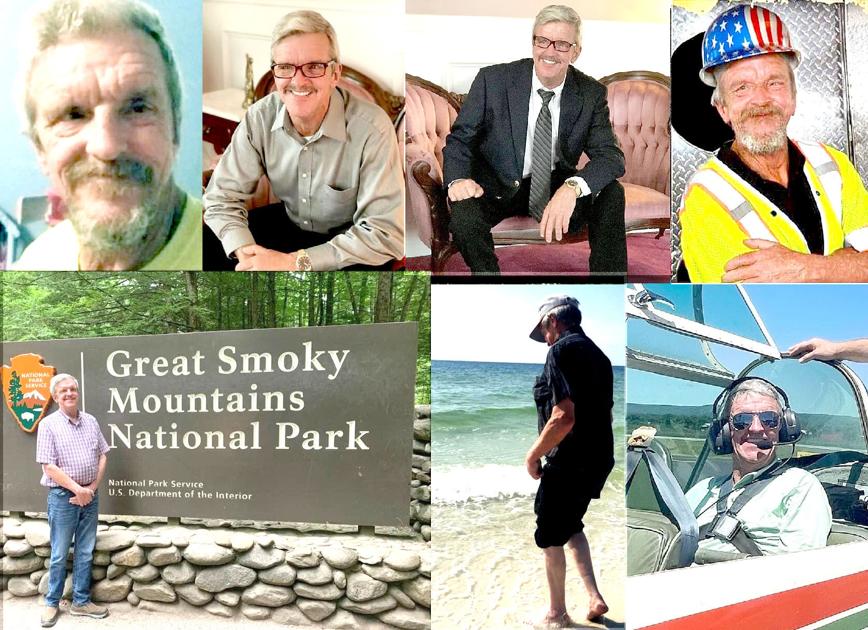 Junior says: "You are never too old to be adopted! | Local News
While William Oakley Sanders, Jr. of Winchester has not volunteered to reveal his age, he states that "No one is too old to be adopted!"
Since Doris and Tommy North from Winchester adopted William (better known as "Junior") two years ago, Junior has said his life hasn't been the same.
He was born on February 12, 1967, the middle child of a family of three boys. Junior's parents were the late William Oakley Sr. and Christine S. Sanders.
Junior grew up in Franklin County and attended Mary Sharp School in first grade, then South Junior High and Franklin County High School until age 11.e school year when he resigned to help care for his ailing father.
After his death, Junior took care of his mother until her passing in 2008, leaving him alone to face the many challenges that have been part of his life since birth.
"I was born with brain damage," says Junior. "I never learned to speak [or walk] until about the age of two.
Despite some limitations, Junior always enjoyed working and helping others.
He held several jobs, including volunteering at Winchester Speedway and the Salvation Army for 30 years, ringing the Red Kettle bell at Wal-Mart.
"I love to ring the Thanksgiving bell on Christmas," Junior said.
He also volunteered for the Fourth District Fire Department and sold the Chronicle of the Herald on Square in Winchester for five years.
There is no doubt that his face is familiar to many who may have passed him as he walked several miles each day with a program in mind.
"I started walking around town when I was 18," Junior said. "I would walk into town to get mom's medicine or ride my bike. It would take me longer to get to town than to get home because of the hills.
Junior used to walk everywhere, and that didn't seem to bother him.
"I walked 14 miles one way to get to church for each service in Estill Springs," he said. "I was a member for 16 or 17 years.
And even though the wake-up services took place during the freezing winter, it didn't bother Junior.
"They had a two week rerun and it was so cold but I never missed a serve," he said. "I remember going to church and my hair was frozen!
Doris and Tommy North, owners of Watson-North Funeral Home, first met Junior in the early 1980s when they bought him newspapers in Winchester Square.
"I would always give her a little extra for a cold drink and a hamburger," Doris recalls.
Junior quickly joined the Winchester Pentecostal Church where the Nords frequented. He then volunteered to sit on the bailiffs committee. Different church members took it in turns to take him home after services.
"I was always worried about him walking that dark road at night," Doris said. "I couldn't believe how far he walked the first time I brought him home [from church]. I asked him how he could even see. He never even had a flashlight.
As they got more familiar, Junior started stopping by the flower shop and asking Doris if he could sweep up or take out the trash. He also stopped by the funeral home on occasion just to chat.
"We would take her out to eat," said Doris. "Tommy and I bought him new clothes, a suit and new shoes. He wanted to go to the men's conference with the church guys.
Every day after that, Junior would stop at lunchtime to chat.
"We would take him to where he wanted to go and always take him and bring him a hot meal," Doris said.
One day in particular, while having lunch with Doris at Sonic's, Junior asked a question that changed his life.
He asked, "Will you and Mr. Tommy take me?" "
"I ask him where he wanted us to take him," Doris said. "I thought he wanted to go somewhere."
But, Junior had thought about it and his question went much further.
"He said to me 'No I mean take me. ' I asked the second time where he wanted us to take him and that we would if we could.
Doris explained that Junior then started crying and said, "I mean, are you all going? take me– like adopting me?
Speechless and in tears, when she returned to the funeral home, Doris told Tommy what Junior had asked for and her response was firm.
"Absolutely! That's what God would have us do," Tommy said. "After all, isn't that what God called us all to do? – Watch out for our brothers and sisters?
Junior explained the reasons for his request.
"I wanted a better life and they loved me and I loved them, so I asked them to adopt me," he said. "We went to the lawyer and got all the papers done, but I kept my last name."
Junior's life has changed dramatically since that trip to the lawyer's office.
Doris and Tommy wasted no time in fitting out an apartment for Junior and furnishing it with the help of a few donations and their family.
They also arranged for a caregiver to clean the apartment and do the laundry as well as take her to her place.
"I have my own home now, a caregiver – Miss Barbara – who picks me up every day," Junior explained. "Sometimes I miss walking, but it's nice to ride. I'm going to live a life I've never had before: I shop, I eat all the time, I eat out every day! I love having breakfast with my friends at Skip's Grill.
And his friends can't help but notice the changes in Junior.
In fact, some say her before and after adoption photos appear to be of a different person wearing stylish clothes and a relaxed, permanent smile.
"People see me now and say, 'Junior, is that you? They tell me I look like a New York lawyer, "laughs Junior.
Doris reports that Junior can't seem to stop beaming.
"I have a better life," Junior said. "I have a wonderful life now! "
Doris and Tommy took Junior fishing and helped him achieve a lifelong dream of getting on a plane.
"I wanted to fly my whole life," Junior explained. "I got to fly over Franklin County and see where I was walking every day. It's hard to imagine how many kilometers I have driven per day!
Doris and Tommy also opened Junior's eyes to the world outside of Franklin County.
He accompanied them to visit Gatlinburg, Dolly Parton's Dixie Stampede, Hatfield and McCoy Dinner Show, and dined at Paula Deen's Home Kitchen at Pigeon Forge.
Her caregiver and her husband also occasionally take her on trips.
A fishing trip to Florida gave Junior an "aha moment" he won't soon forget.
"I had never seen the ocean except on television," explained Junior. "It was hot there, but the weather was nice. I walked barefoot in the sand and looked at the ocean but didn't get in – never realized it was so big! When I saw him I said: 'My lord!'"
Junior can't wait to share more adventures and blessings with his new family.
Yet Doris and Tommy think it was Junior who blessed their lives.
"He's taught us so much and it's an honor to be his 'bonus mommy and daddy'," said Doris. "I guess you're never really too old to be adopted!" "
Last year Doris and Tommy adopted a 38-year-old "sister" for Junior. They live next door in separate apartments and enjoy the fellowship between siblings very much.
"Every day is a new day and an adventure," said Doris. "I hope this will inspire others to adopt someone along the way. You never know how you will affect their lives."