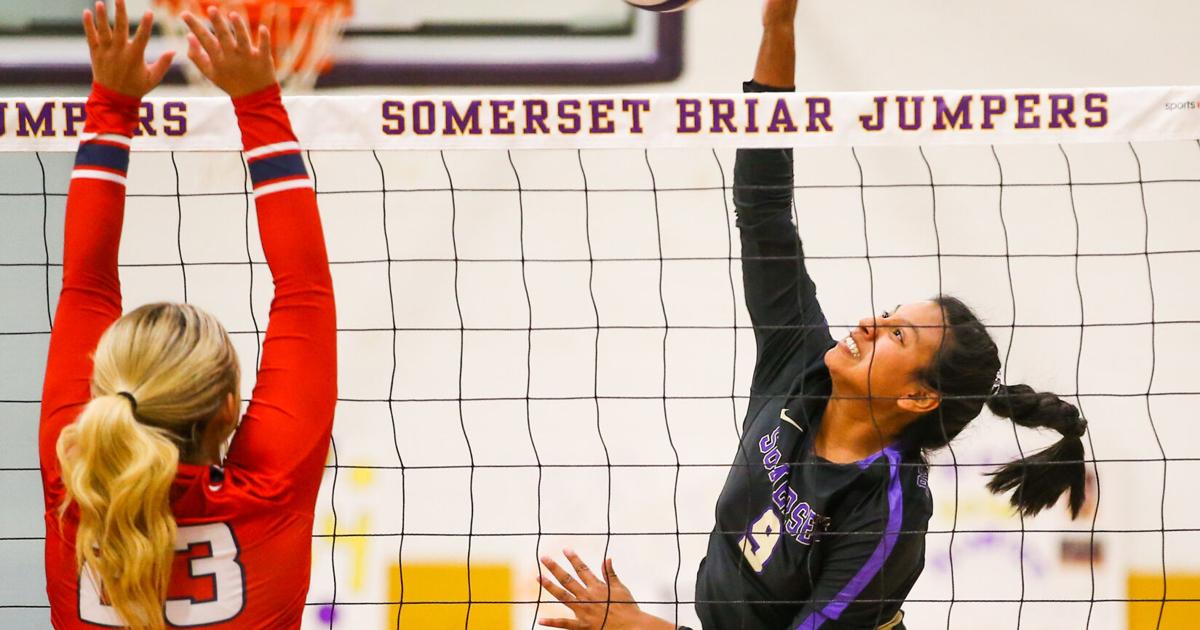 Jumpers bounce back in win over Lady Rockets | Sports
After losing to rivals Pulaski County on Tuesday, the Briar Jumpers were back in action at the Briar Patch as they hosted the Rockcastle County District opponent. Somerset would be able to bounce back in what was a tight game between the two schools as they would battle until the fifth set in a 3-2 Somerset win (25-18, 25-19, 20-25, 23 – 25, 15-12).
It was a far cry from their previous meeting of the season, where Somerset would sweep Rockcastle 3-0. Jumpers head coach Rachel Lange was pleased with her team's mentality in the five-set thriller.
"I think it's good for our girls to learn how to be mentally tough by doing five full sets, and I'm proud of them for making it," she explained.
Somerset would get off to a fast 8-2 start in the first set due to the eliminations of senior Areli Vela-Alvarez and second student Kyndell Fisher, as well as a strong block from Fisher.
The Lady Rockets fought back midway through the set, trailing 15-11 after wins from seniors Hallie Brown, Kylee Burns and Allison McCoy, along with two aces from second Markley Richards. In the end, it would be two kills from sophomore Serenity Haynes that would take the Jumpers to the point, before a Rockcastle hit gave Somerset 25-18 in the first set.
It would once again be a quick start for the Jumpers in the second set, as they would take an 8-3 lead after kills from Vela-Alvarez, junior Emily Ford and Fisher, as well as Vela-Alvarez aces. Alvarez and Ford. Again, the Lady Rockets would make a comeback, going 15-11 again after wins from Burns, McCoy and second Addison Rush.
The Rockets would close as late as 20-18, before a 5-1 frenzy from Somerset wrapped up the second set in favor of the Jumpers 25-19 after late attacks from Haynes and sophomore Ella Lancaster. Haynes would hit the set-winning kill to put Somerset ahead 2-0 in the match.
It was clear the Lady Rockets wouldn't back down, as the third set was much tighter throughout. Midway through the set, the two teams would be tied at 16-16. Vela-Alvarez would again lead her riders early, as she had three wins and two aces. Burns would lead the Lady Rockets, picking up five kills midway through the set.
It would be Rockcastle County, however, who would come out on top in the third set, as they closed the set with an 11-4 run to win their first set of the match 25-20. They would be led by wins from McCoy, Brown and senior Sarah Barron, as well as aces from Burns and Barron. The winning point of the set was earned on a block from Brown.
Battling to force a fifth set, the Lady Rockets battled through the fourth set, leading 15-12 at the halfway point after kills from Brown, Burns and Barron, as well as an ace from Richards. Somerset would have six first kills from Vela-Alvarez, along with two kills from Haynes and one kill from Ford.
The end of the fourth set looked like it could go either way, with Somerset going from 4-1 up early to trail just one point 24-23. The Jumpers would have late wins from Haynes, Ford and Lancaster. However, serving to tie the game at 24 points apiece, a volley from Somerset would land out of bounds, giving Rockcastle the winning run and claiming the fourth set victory 25-23, taking both teams to a tiebreak.
Somerset would build momentum early in the fifth set and wouldn't let go as they opened on an 8-3 run after kills from Vela-Alvarez and Haynes, plus back-to-back aces from second Tanner Rigney. A 6-4 sprint from the Rockets would put them solidly back in the game at 12-9 after the eliminations of Rush, Burns and Barron. However, it would be the Jumpers who would celebrate at the end of this one, as after an ace from Vela-Alvarez, the winning set and kill would come from Haynes, giving Somerset a 15-12 victory in the fifth set and thus giving them their second win over Rockcastle County this season.
The Jumpers improve to 17-6 this season, and they'll be in action next Saturday when they host the Lake Cumberland Pink Out. During the event, they will play Jackson County, Clay County, Mercer County, and Lincoln County.