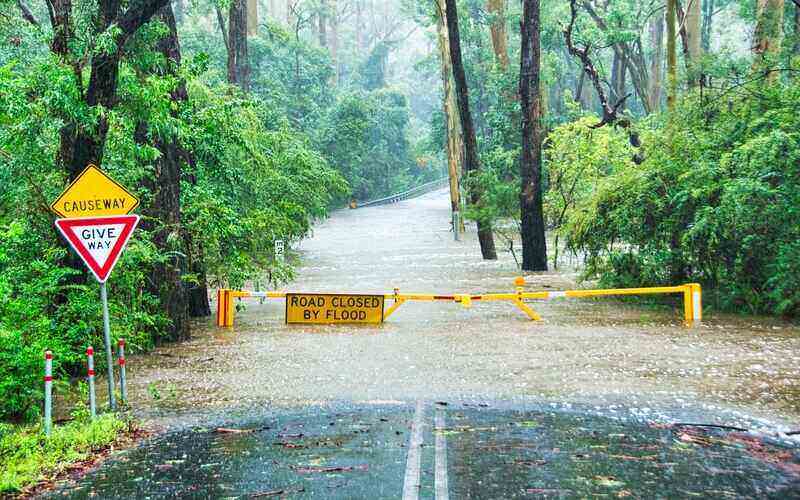 Insurance and banking assistance for flood victims in New South Wales
A disaster declaration has been made in New South Wales by Australia's leading insurance agency, as more than 5,000 claims have already been filed.
The New South Wales flood disaster continues to worsen, with 18,000 people already evacuated from their homes and countless properties underwater in parts of the state.
Today, the Insurance Council of Australia (ICA) declared the region a disaster, with ICA CEO Andrew Hall saying more than 5,000 claims have already been filed by affected customers.
"The insurance industry made this declaration of disaster to activate services and support for affected homeowners and businesses and reassure them that their insurer is there to help them," Hall said.
"As many areas are currently inaccessible due to flood water, insurers expect more claims in the coming days as emergency services allow residents to return to their properties to examine the extent of their claims. damage and loss. "
The ICA is also monitoring flooding in South East Queensland to see if such a declaration is required there.
Buying a home or looking to refinance? The table below shows home loans with some of the lowest interest rates on the market for homeowners.
Insurance assistance available for flood victims
A declaration of disaster by the Insurance Board means that helping affected clients takes priority over others, with the most affected receiving the most urgent attention.
The ICA has activated its disaster hotline on 1800 734 621 to help policyholders with questions about their claims.
Insurers will mobilize disaster response specialists to help affected customers as soon as it is safe to do so.
See also: What is flood insurance and what is content insurance?
Banking support available for NSW customers as well
Australian Banking Association (ABA) CEO Anna Bligh said Australian banks will also offer specialist help to people in the region.
"Once the cleanup has started, it's important for people to know that they can speak to their bank for help," Ms. Bligh said.
"The message from the banks is clear: don't do it alone, your bank is ready to help.
The assistance offered includes extending home loan deferrals, which were due to expire in just one week for clients affected by COVID-19.
The other aid offered are as follows, although the scope of the aid differs from one bank to another:
Banks with insurance branches also offer help to home and content insurance customers.
Commonwealth Bank, for example, provides emergency accommodation for CommInsure customers and expedites claims, just like other major banks.
"Record breaking rain in New South Wales has had a devastating impact on households, businesses and communities, and we want our customers in flood affected areas to know that we are here to help them right now." said CEO of Westpac Consumer & Business Banking said Chris de Bruin.
"Our customer support teams are ready to speak to customers who need access to this support, and we've added additional claims consultants and engaged local builders to help our insurance customers."
Emergency assistance numbers for key banks. Source: ABA.
What to do with flood and storm damage
If your home has been damaged by flooding, now or in the future, the CIA provides the following tips for your safety and to make sure you are making a claim correctly.
Safety is the priority – don't do anything that puts someone in danger
Do not return to your property until emergency services give the green light
If water has entered the property, do not turn on your electricity until it has been inspected by an electrician
Contact your insurance company as soon as possible to file a claim and seek advice on the claims process
You can start cleaning up, but start by taking photos or videos of the property and property damage as proof of your claim.
Retain material and fabric samples to show to your insurance appraiser
Remove water or mud damaged products from your property that could pose a health risk, such as saturated rugs and upholstery
Make a list of each damaged item and include a detailed description, such as make, model and serial number if possible
Store damaged or destroyed items in a safe place
Speak to your insurer before attempting or authorizing any construction work, including emergency repairs, and seek permission from the insurer in writing.
Do not throw away goods that could be recovered or repaired
---
Photo by Phillip Flores on Unsplash
The entire market was not taken into account in the selection of the above products. Instead, a smaller part of the market has been envisioned, which includes the retail products of at least the Big Four Banks, the Top 10 Customer-Owned Institutions and Australia's largest non-banks:
Products from some vendors may not be available in all states. To be taken into account, the product and the price must be clearly published on the website of the supplier of the product.
In the interest of full disclosure, Savings.com.au, Performance Drive, and Loans.com.au are part of the Firstmac group of companies. To learn more about how Savings.com.au handles potential conflicts of interest, as well as how we are paid, please click on the links on the website.
*The Comparison rate is based on a loan of $ 150,000 over 25 years. Please note: this comparison rate is only true for this example and may not include all fees and charges. Different terms, fees, or other loan amounts may result in a different comparison rate.