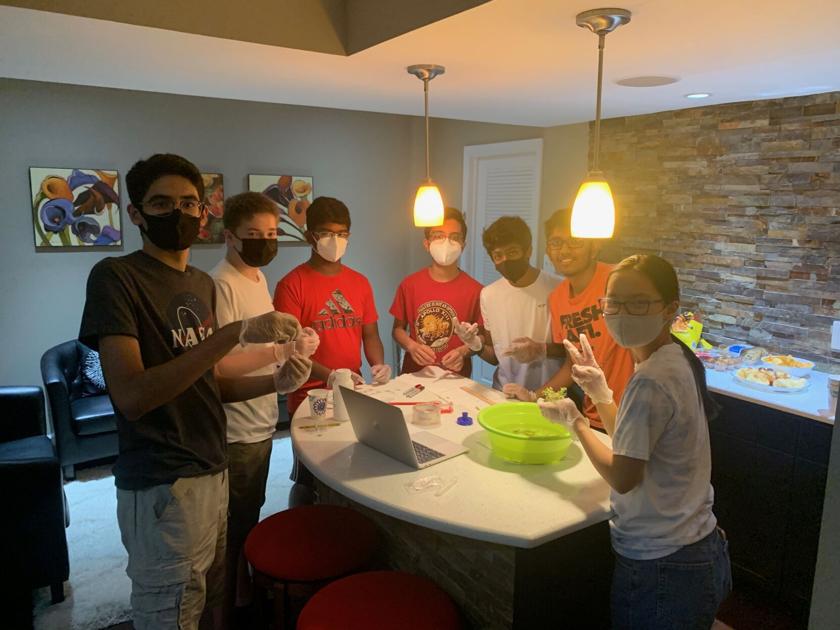 Independence The high astronomy club launches an experiment that takes algae to the upper atmosphere | New
It was 2019 and Hriday Unadkat was a young man on a mission. That year he was a 10th grader at Independence High School, which has just opened in Ashburn. At the start of the school year, Unadkat noticed that the school did not have a place for students who shared one of his deepest interests: astronomy.
"I discovered that there were very few ways to experience astronomy with my classmates," he said in an email to The Times-Mirror. "And to create a larger group of science-minded students in our new school, I knew I had to take some initiative on my own."
Unadkat then founded the Astronomy Club at Independence High School. Now senior as club president, his peers can add another superlative to his directory: "Most likely to send a piece of seaweed into space."
Unadkat and his colleagues at the Astronomy Club were selected to participate in the Cubes in Space program earlier this year. The program challenged students aged 11 to 18 to design and deliver experiments that can be launched into space or into an environment close to space, using a sounding rocket from the NASA, which typically launches scientific instruments into a parabolic orbit around Earth for 15 to 20 minutes. – or a scientific balloon at zero pressure, according to the Cubes in Space website.
Hailey Zhou, a Grade 10 student at Independence who also joined the astronomy club and participated in the experiment, said she found the club listed on the school's website, but that she hadn't thought much about it at first.
"I've been interested in astronomy since I was a kid, so I decided to join this club," she said. "But I didn't expect to participate in these big projects."
According to Unadkat, the Astronomy Club at Independence High School decided to design an experiment focused on Acetabularia algae. The algae Encyclopedia Britannica entry refers to it as "among the largest single-celled organisms", as well as having "an unusually large nucleus".
"What it does and why it's interesting to us is that if you cut some parts of this algae… it actually regenerates itself," Unadkat said. "And so, the whole point of our… research was to find out how this regeneration might be affected in the space environment."
Groups of students who were selected by Cubes in Space to enter the competition and who submitted entries would have their material returned to NASA's Langley Research Center in Hampton. From there, groups that opted to take the rocket approach would have their submissions sent to the Wallops Flight Facility on Chincoteague Island, while groups that opted for the balloon would have their entries sent to Columbia. Scientific Balloon Facility, according to Unadkat.
He and his colleagues then designed an experiment that would enclose a piece of Acetabularia algae in a plastic bag filled with salt water, place the bag and algae in a 4cm x 4cm cube provided by Cubes in Space, and eventually would have it sent to the Columbia balloon facility for launch in New Mexico.
But there were several hurdles to overcome in order for their project to be submitted, Unadkat said.
The Astronomy Club submitted an intention to fly on February 25, which was then accepted by Cubes in Space on March 29. The club submitted their first official proposal around April 19, but were asked to revise it. After getting a revised proposal accepted on April 26, the club then had until mid-June to create the experiment and submit it to the Langley center.
Due to a series of weather delays that could have compromised launch conditions, the weather balloon containing the Independence High School submission was not launched until August 30, according to Unadkat. But now, he said, "we're just waiting to get our experience back."
Unadkat also pointed out that when the club project was finally launched, the members were "very well received by the school". Independence isn't a STEM-loving high school, he said, so "when big projects like this happen it's kind of… kind of a unique thing."
The director of Independence showcased the club's accomplishments in the school's morning announcements, and a staff member from the school newspaper also requested an article, Unadkat said.
The astronomy club and its achievements have been "generally very well received by the school," he said. And because the club was only launched in 2019, Unadkat added that "I just think that's it [the] more amazing that we actually started our experiment, because we really didn't know what we were doing the first time around.