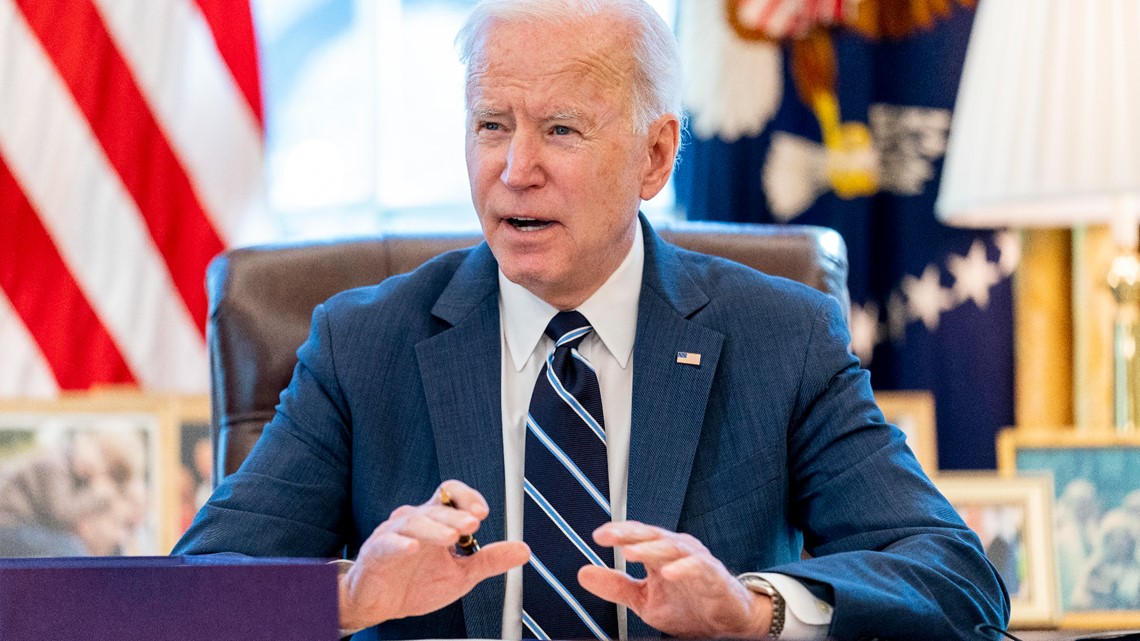 Biden says US will hit 100 million COVID shot target on Friday
The United States is also finalizing plans to send 4 million combined doses of the AstraZeneca COVID-19 vaccine to Mexico and Canada during its first vaccine export.
WASHINGTON – As the United States moves closer to President Joe Biden's goal of injecting 100 million coronavirus vaccines weeks before his target date, authorities said on Thursday that the country is now in a position to help to supply its neighbors, Canada and Mexico.
Biden administration announced outline of plan to "loan" vaccines to Canada and Mexico even as President announces US on track to meet 100-day injection target "well before the scheduled date".
"I am proud to report that tomorrow, 58 days after the start of our administration, we will have achieved our goal," Biden said.
Ahead of Biden's remarks, the White House announced that the United States planned to send 4 million combined doses of the AstraZeneca COVID-19 vaccine to Mexico and Canada during its first vaccine export.
Press secretary Jen Psaki said the administration was finalizing efforts to distribute 2.5 million doses in Mexico and 1.5 million in Canada as a "loan." Details are still being worked out.
"Our first priority remains immunizing the American population," Psaki said. But she added that "ensuring that our neighbors can contain the virus is a critical step for the mission, is essential to end the pandemic".
The AstraZeneca vaccine has not been approved for use in the United States, but has been approved by the World Health Organization. Tens of millions of doses have been stored in the United States, if they receive an emergency use authorization, which has sparked an international outcry that the life-saving vaccine is withheld when it could be used elsewhere.
The Biden administration and leaders of other wealthy countries have faced calls from France and some global health advocacy groups to donate a small percentage of vaccines produced in the United States and elsewhere. other industrialized countries to poor countries. Biden also responded to direct requests from Canadian Prime Minister Justin Trudeau and Mexican President Andrés Manuel López Obrador to purchase vaccines made in the United States.
Global public health advocates say wealthy countries like the United States need to do much more to help stem the spread of the global pandemic. The World Health Organization released a report on Thursday that found less than 7 million doses of the COVID-19 vaccine have been administered in Africa to date. This is the equivalent of what the United States administers in a matter of days.
RELATED: Apple Maps Now Shows COVID-19 Vaccination Locations
RELATED: Study Participants Receive First Doses of Moderna's 'Next Generation' COVID-19 Vaccine
From his early days in office, Biden set out clear – and achievable – measures for American success, whether it be vaccinations or school reopens, as part of an apparent strategy of under-promising, then to over-deliver. Aides believes exceeding his targets breeds confidence in the government after the Trump administration's sometimes fanciful rhetoric about the virus.
The 100 million dose target was first announced on December 8, days before the United States even had a single approved vaccine for COVID-19, let alone the three that have now been approved. emergency. Still, he was generally seen close at hand, so optimistic.
By the time Biden was inaugurated on January 20, the United States had already administered 20 million shots at a rate of about 1 million doses per day, complaining at the time that Biden's target was not not ambitious enough. He quickly revised it up to 150 million doses in his first 100 days.
Now, the United States is injecting an average of about 2.2 million doses each day – and the pace of vaccination is expected to increase significantly later this month in conjunction with an expected increase in vaccine supply.
According to data from the Centers for Disease Control and Prevention, injections of 96 million doses have been reported to the agency since Biden's inauguration, but those reports are behind the actual date of administration. Vaccination trendlines indicated that Biden crossed the 100 million mark on Thursday, with the numbers likely to be confirmed by the CDC over the weekend.
The president decided to speed up vaccine shipments from Pfizer, Moderna and Johnson & Johnson, as well as to increase the number of places to get vaccinated and people who can administer them, with a focus on increasing the country's capacity to inject doses to lift supply constraints.
The risk of setting overly optimistic expectations is that an administration can be defined by its inability to meet them, as in May 2020, when President Donald Trump said the nation had "prevailed" over the virus.
At the time, the country had recorded around 80,000 deaths from the virus. This week, the death toll in the United States topped 538,000. Trump's lax approach and lack of credibility have also contributed to the lack of respect for public safety rules among the American public.